Attack Pro Wrestling (stylized as ATTACK! Pro Wrestling) is a British professional wrestling promotion that was established in 2011 by wrestler Pete Dunne and ring announcer Jim Lee. Since 2012 (when Jim stepped down as co-promoter), its events have been run by a regularly-changing collective of British wrestlers, currently consisting of Pete Dunne, Mark Andrews and Chris Brookes. It was nominated for the award of "UK/Ireland Promotion of the Year" at the Fighting Spirit Magazine Readers Awards 2016.
The promotion is known for combining high-quality independent wrestling with "some of the most creative shows the British Wrestling scene has ever seen"; including innovative themed shows (such as the video game themed show 'Press Start'), unique characters (such as an amorous French mouse named 'Love Making Demon'), and bizarre twists (such as referees and soft toys winning Championship belts).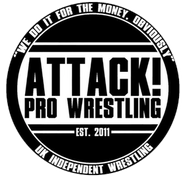 Championships
ATTACK! Championship
ATTACK! 24:7 Championship
ATTACK! Tag Team Championship
Return To
Community content is available under
CC-BY-SA
unless otherwise noted.