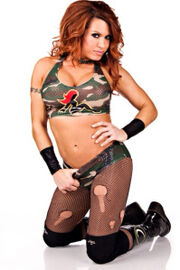 April Hunter (born September 24, 1976) is an American professional wrestler, professional wrestling valet, boxer, actress, writer and fitness/glamour model. She has appeared in many publications, from MuscleMag International to Playboy Magazine and has her own comic book series, Code Red by Pickle Press.
In 1999, after Hunter appeared in Playboy, she was hired by World Championship Wrestling (WCW). Along with four other models (Tylene Buck, Kim Kanner (Shakira), Midajah and Pamela Paulshock), she accompanied members of the nWo to ringside for their matches.
Hunter trained to become a professional wrestler with Killer Kowalski in Boston. She was the only female in the class and soon began working on the independent circuit and overseas.
Far North Wrestling Women's Championship
German Stampede Wrestling World Women's Championship
Great Canadian Wrestling W.I.L.D. Championship
Jersey All Pro Wrestling Tag Team Championship
Jersey Championship Wrestling Women's Championship (1 time)
NWA Cyberspace Women's Championship
Pro-Pain Pro Wrestling Tag Team Championship
World Queens of Chaos Championship
USA Pro Wrestling Women's Championship
Women's Extreme Wrestling Tag Team Championship
World Xtreme Wrestling Women's Championship
See Also