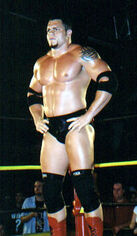 Germán Figueroa Sullivan (born May 6, 1975) is a Puerto Rican professional wrestler, better known as Nuevo Gran Apolo, or simply Apolo, and also known as El Leon. Figueroa began performing in Puerto Rico's independent circuit, before entering the International Wrestling Association and World Wrestling Council. He currently wrestles for the National Wrestling Alliance under the name Apollo.
Figueroa joined Total Nonstop Action Wrestling in July 2002 as Apolo. He made several appearances for the promotion, with his last match being a loss to Jeff Jarrett on August 7 in a match with Ricky Steamboat as the special guest referee.
On January 14, 2004, Figueroa returned to TNA under a mask as El León ("The Lion"), attacking Jarrett. After Figueroa no-showed TNA Final Resolution 2006, he was removed from TNA television. At TNA Against All Odds 2006 on February 12, 2006, he was replaced with Machete. He was released from the promotion that same month. Figueroa was a participant in a TNA event that took place on June 3, 2007 in San Juan, Puerto Rico. He was booked to wrestle in a tag team match with Jeff Jarrett against Scott Steiner and James Storm, Figueroa's team won the match. A sidekick applied to Steiner by Figueroa injured his trachea, after Steiner confronted respiratory problems he underwent surgery in a nearby hospital.
See Also