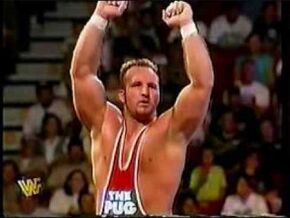 Alexander Pourteau, (born October 30, 1969) is an American professional wrestler best known for his stint with the World Wrestling Federation as Alex "The Pug" Pourteau between 1996 and 1997.
Pourteau had worked for the World Wrestling Federation on odd occasions from 1994, but began to wrestle full-time for the company in 1996. Pourteau received a push from the WWF, under the name Alex "The Pug" Pourteau, with the gimmick of an amateur wrestler (using the theme song The Steiner Brothers used in the WWF), however his character did not last. Soemtimes he teamed up with Aldo Montoya and Bob Holly. After a year with the company, Pourteau left the WWF in 1997.
Since leaving the WWF in 1997, Pourteau joined WCW for a brief stint mainly performing on WCW Pro and WCW WorldWide. He then wrestled on the independent wrestling circuit. Pourteau has wrestled for independent companies including Full Impact Pro. In 2001 he returned to World Wrestling Council, winning their Television Championship on July 7. He lost the championship on July 28, 2001 to Chris Grant.
Pourteau, at unknown periods of his career, has also won the CWA (Dallas) Tag Team Championship, BDPW (Dallas) Heavyweight Championship, TAP (Texas) Heavyweight Championship and the SECW Tag Team Championship (with Frankie Lancaster).
At WWE WrestleMania 25, Pourteau participated as a member of John Cena's "army."
Big D Wrestling

Heavyweight Championship

Big D Wrestling

Light Heavyweight Championship

Coastal Championship Wrestling

Heavyweight Championship

Florida Wrestling Alliance

Heavyweight Championship
Global Wrestling Federation Light Heavyweight Championship

South Eastern Championship Wrestling

Tag Team Championship

Texas All-Pro Wrestling

Heavyweight Championship
World Wrestling Council World Junior Heavyweight Championship
World Wrestling Council World Television Championship
CWA Tag Team Championship
See Also